22 June 2023
Posted by:

Hope Phiri

Category:

General Information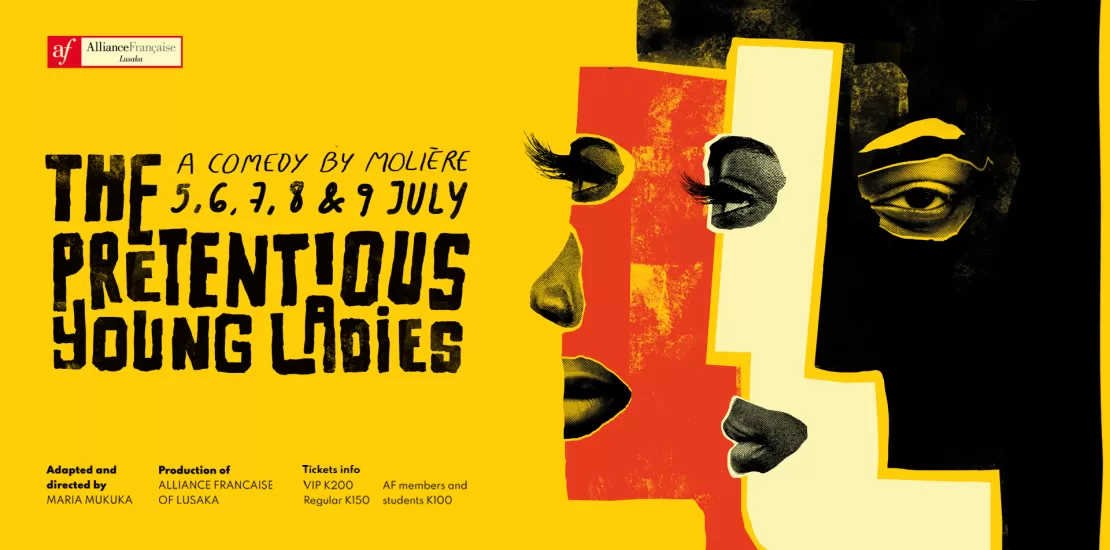 We are thrilled to announce our very own Zambian adaptation of the famous play "The Pretentious Young Ladies" by Molière
Directed by the ctress/theater maker Maria Mukuka.
 « The Pretentious Young Ladies » is a one-act comedy written by the French playwright, Molière, whose 400-year celebration inspired us to produce a play of his. This play was one of his first successful theatrical works when it premiered in Paris in 1659 and continues to resonate with society today.
Join us as we embark on this funny and inspiring adventure
—
DETAILS
 5 performances 100% family-friendly:
Wednesday 5th July at 18.30
Thursday 6th July at 18h30
Friday 7th July at 18h30
Saturday 8th July at 16hrs
Sunday 9th July at 16hrs
 Tickets available now online on Quicket by clicking on the link 
https://urlz.fr/mjdR
 Tickets: K200 VIP, K150 Standard, K100 for students, members and kids under 15 years old, current members and students 
—
Full cast and team 
@zeee_bani @mela_ninking @robby.robex @mwapeshumba @lemekani_mtonga @lawrenzos_wurld @lawrenzo_mukolo_kataya