6 December 2019
Posted by:

4llianc3

Categories:

Art, Culture and Arts, Culture and Events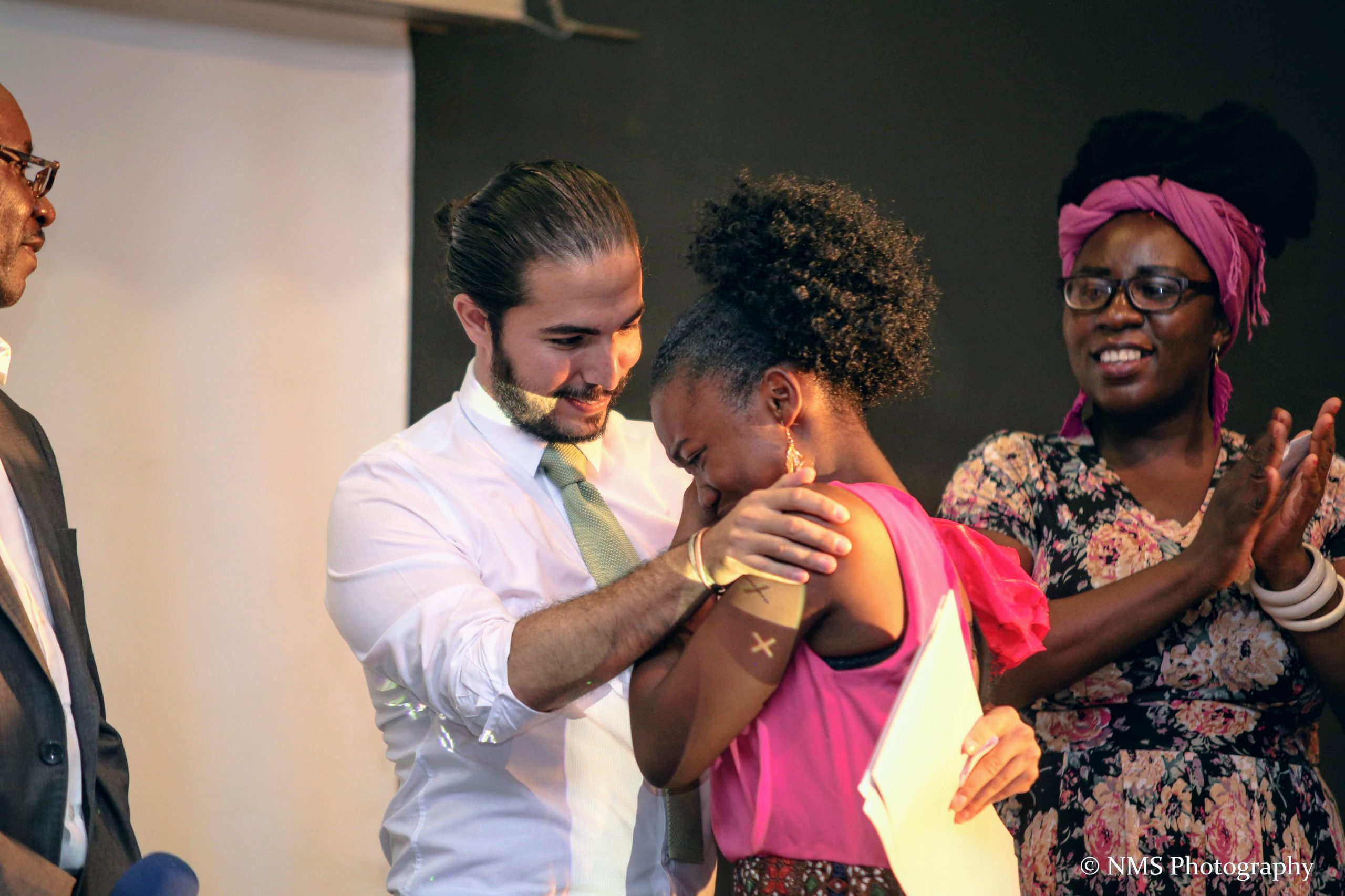 Thandiwe Yamba, 13, and 22 years old Musenga Katongo are among five talents that emerged winners at the first Alliance Française of Lusaka Talent Show, hosted on the November 30th.
With each winner taking home K3,000 as prize money, the 2019 Talent Show set out to find the best from five categories that included Art, Music, Spoken Word, Dance and Theatre.
We received 238 applications from a public call out, placed on our Facebook page, and interestingly 158 of these were for the music category. It wasn't an easy task because there is some great talent out there and videos sent in notably made us realize that. But we still had to trim the list down to something manageable, so we called up 70 people for auditions, Bright Nyirenda said.
Nyirenda who was part of the coordinating team spearheading the Talent Show, is a fourth year student at the University of Zambia, studying a Bachelor of Science in Theology and French, attached to the Alliance Française of Lusaka.
He said after auditioning the shortlisted, numbers reduced to a competitive 25 participants who had to receive coaching from trainers, under the invitation of the Alliance Française of Lusaka.
The Alliance Française of Lusaka has been instrumental in creating cultural and social engagements in the last few months with a recent introduction of University and College Ambassadors being among it's recently introduced programs. This alludes to new set goals by it's Director, Naïl Muniglia and his team.
Muniglia took over as Director of the Alliance Française of Lusaka in mid-July this year adding to the transformation of the Lusaka network which exists among 830 other similar institutions in more than 140 countries, as non-profit-organizations whose aim is to spread the French language and culture, while promoting inter-cultural exchange.
Our vision for the next years regarding the cultural policy is to transform the Alliance Française of Lusaka into a platform able to find talents, giving them visibility and make them interact and create.

In that matter, the 2019 Talent Show" is a new concept that must be repeated next year in a bigger/better way, Muniglia said.
Speaking to participant's before the grand finale, Muniglia noted that Zambia has a lot of talents and it is important that such talent be tapped and used, with recognition of its worth, while adding value.
We want you to be your best and show your best. Stand out and give us all you have, because you have come this far, so we know you are the best, Muniglia told the participants.
Not so long ago, I was like each one of you. I had to perform and I did. So I know exactly how you feel, and will just ask that you have fun, Muniglia shared.
Speaking after the event, talent Judge Jessie Chisi and Becky Ngoma who helped as drama and theatrical coach, praised the Alliance Française of Lusaka for their significant support of the arts, noting it as a start of many great things.
Ngoma highlighted that there was better stage management, dressing, adequate rehearsal time for participants as well as enough allocation time per category as arts vary, and hoped that a runners up category could be considered for next years talent show.
I am delighted that we also had a balanced judging panel with experts represented for each art genre, Ngoma said
Ngoma called on the organisers to consider a runners up prize category for next years talent show, as that would encourage participants to raise their level of artistic performance. She also commended Alliance Française of Lusaka for a balanced judging panel, as experts represented each art genre.
Meanwhile, Chisi on who doubled as judge for both the selection panel and grand finale, worked alongside Benjamin Silungwe, Muniglia and his Deputy Director at Alliance Française of Lusaka, Christelle Terra.
She said she was happy for the privilege to work with fresh and upcoming talent, further thanking her team for their inclusive and balanced approach during planning and the lead up to grand finale.
Chisi and Ngoma are not strangers to the arts, both having worked together on a cable TV channel series for two seasons completing 180 episodes.
They are currently consulting on independent projects, with a hope of making a highlight in the coming year 2020.
Other coaches engaged by the Alliance Francaise of Lusaka for this talent show, included Queen Sheba, who coached those in spoken word and the talented saxophonist and music consultant Mutemwa Cymbala who helped prepare Musical talent to their final performance.
The winners in their respective categories are Thandiwe Yamba — Music, Praise M Kanganjo — Drama, TDG Movement — Dance, Musenge Katongo with Spoken Word and Primrose Chupa with her works of Art. An extra special recognition went to Mtsinje for the outstanding and Theatrical performance.
— END —